AMIA with SHARESOURCE for Renal Care
AMIA with SHARESOURCE for Renal Care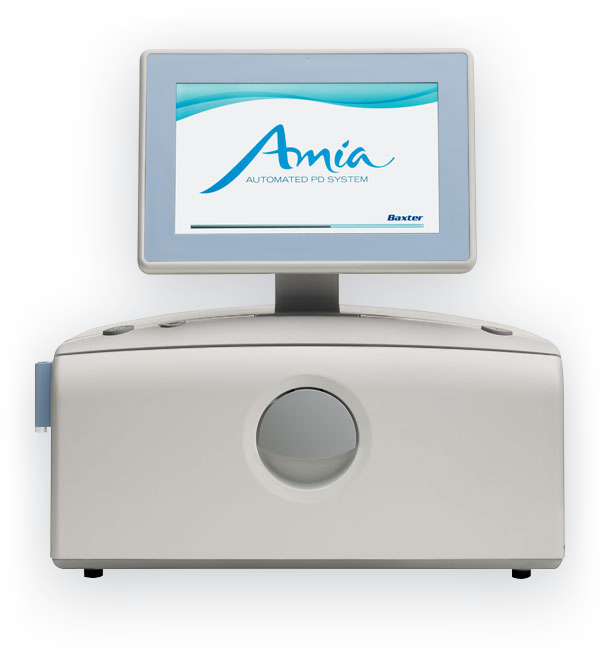 AMIA automated peritoneal dialysis (APD) with the SHARESOURCE remote patient management platform is the first and only APD system to include user-friendly features that help guide end-stage renal disease patients through home peritoneal dialysis (PD) therapy, while keeping them remotely connected with their healthcare providers.
AMIA was designed to support more patients being able to administer PD therapy in the comfort of their home with intuitive features, such as voice guidance, a touchscreen control panel and the SHARESOURCE remote patient management platform. AMIA's compact design also means it can be packed in a car or taken onboard an airplane, enabling patients to conduct therapy when traveling for work or leisure.
SHARESOURCE allows healthcare providers to securely view their patients' recently completed home dialysis-related treatment data that is automatically collected after each PD session. Healthcare providers can then act on this information by remotely adjusting their patients' home therapy prescription without requiring them to travel to the clinic.
Remote Patient Management

SHARESOURCE remote patients management platform extends healthcare providers' reach by allowing visibility to home patients' adherence patterns, which may allow earlier intervention.  Patients using an automated PD system with SHARESOURCE are less likely to drop out of therapy1, and they experience a reduced number of hospitalizations1. Likewise, healthcare providers are reporting a statistically significant increase in preemptive patient consults and APD prescription adjustments2-3, as well as reduced resource utilization and associated cost4.
Voice Guidance

Simple, voice-guided, step-by-step instructions guide patients through detailed instructions on how to set up and complete their treatments. Built-in technical support features assist them and, if necessary, provide contact information for assistance. The AMIA system can speak to patients in English, Spanish or French Canadian.
Compact Design

The AMIA System is also up to 40 percent smaller and 30 percent lighter than HOMECHOICE and HOMECHOICE PRO Systems. It features a folding design when the touchscreen is not in use. The compact design means the AMIA System fits in a TSA-compliant carry-on case or can be taken in a car, enabling patients to conduct therapy when traveling for work or leisure.
Intended Use Information
Rx Only: For safe and porper use of products mentioned herein, please refer to the appropriate Instructions for Use or Operator's manual.